Peter van Straaten: 'Gras in the picture'
9th of October – 3rd of December 2022 in Café Bern
As a neighborhood resident, Peter van Straaten (Arnhem, 1935 – Amsterdam, 2016) was a regular visitor of Café Bern. What we had noticed for a long time was that a returning character in his prints bore a great resemblance to another well-known guest of our café: Gras Heyen (1917 – 1988). And indeed: Gras and Peter were more or less from the same generation and they were both regular visitors of the artist's association 'De Kring'. Sometimes Peter used Gras as a source of inspiration. Grass was a very striking personality with a definite opinion and with a lot of humor.
Peter agreed to exhibit a number of drawings featuring Gras in Café Bern. Now, after all these years, we thought it was nice to hang them up again, as a tribute to two legendary residents of the Nieuwmarkt neighborhood. From 9 October to 3 December 2202 these drawings, as well as a few works by Gras Heyen, can be admired in Café Bern.
Please feel free to drop by. From 4:00-6:00 p.m. you can come and see the exhibition at your ease. Or late at night, after 11:00 p.m., when the rather busy dinner time has finished and a lovely relaxed "after hours" atmosphere has descended on Café Bern.
Below you can already have a preview of one of the works exhibited at Café Bern.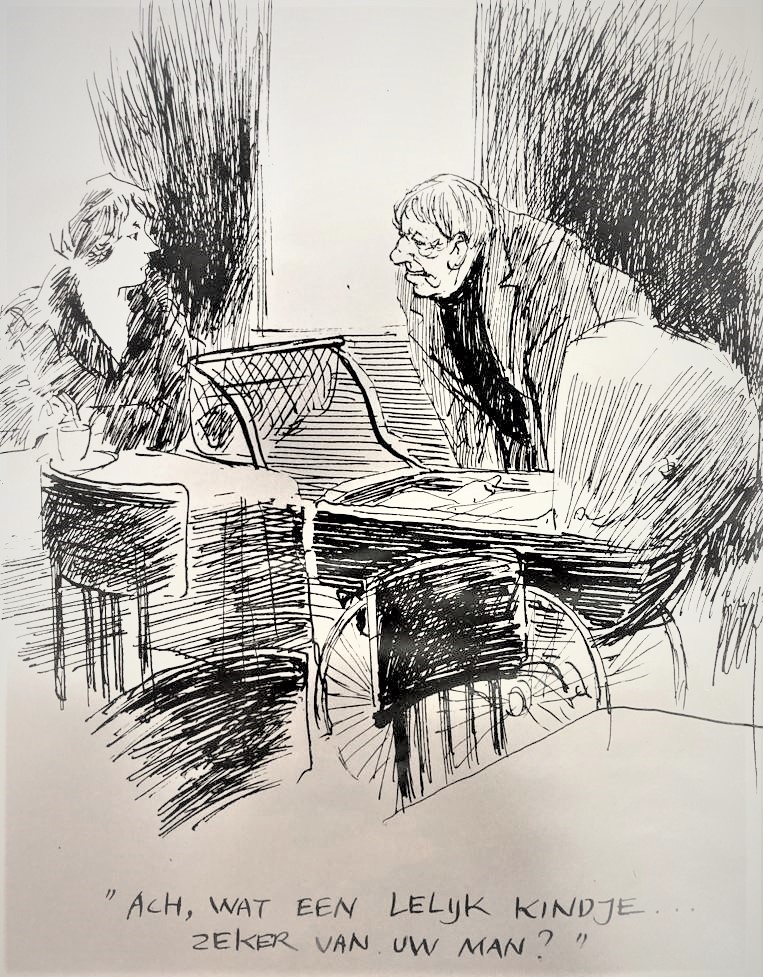 Gosh, such an ugly child
Peter van Straaten
Print
42 x 30 cm
Privat collection Café Bern
Exhibited at Café Bern
from October 9 to December 3, 2022
Peter van Straaten
Arnhem, 1938 – Amsterdam, 2016
illustrator, cartoonist, writer